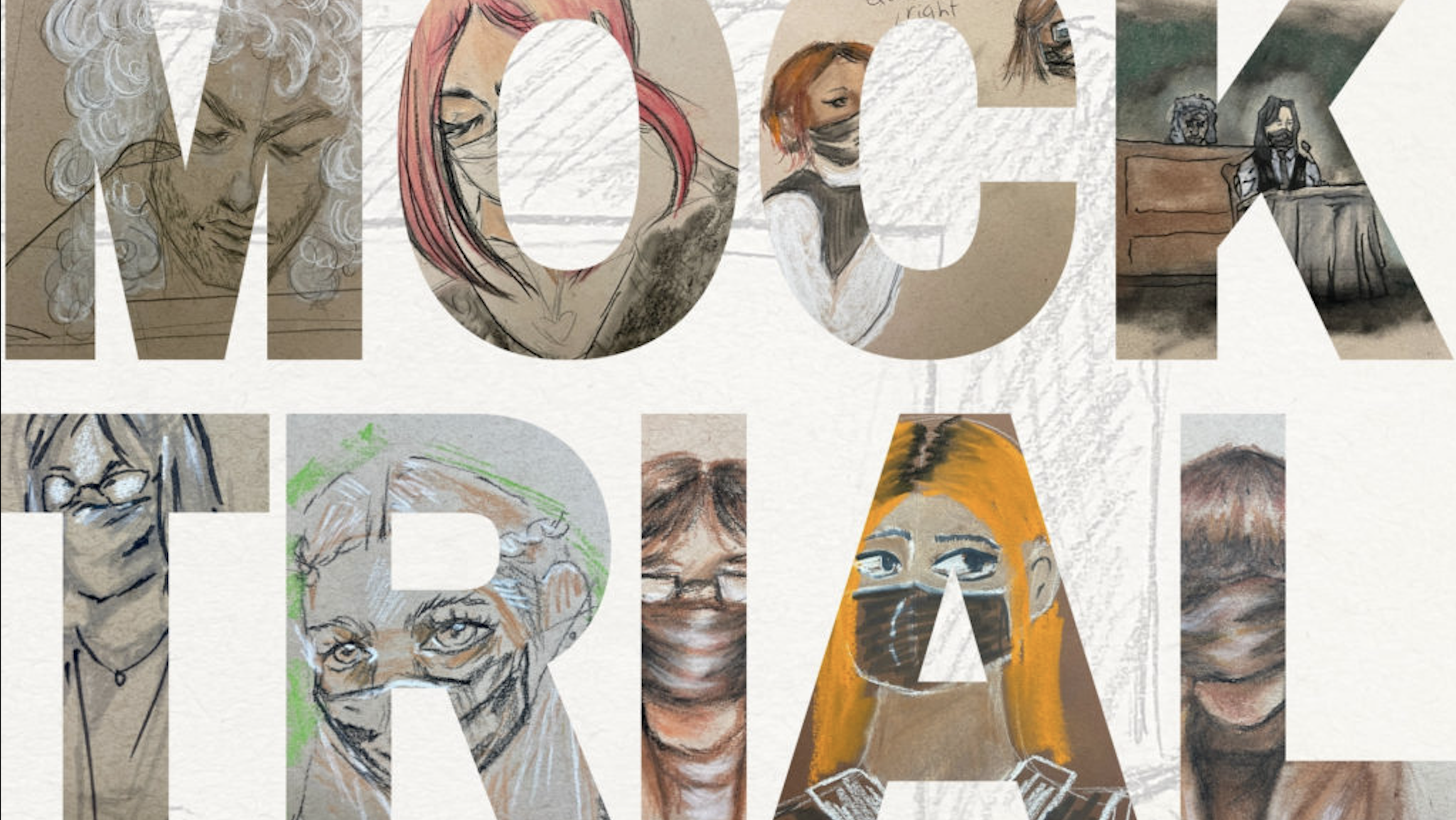 Mock Trial Courtroom Illustrators
By Jess Perry-Martin, 9-12th grade Advanced Visual Arts Teacher, Los Angeles Unified School District (LAUSD)
Overview

---
Grade levels:
10th-12th
Materials/Resources:
Charcoal, Pencils, Toned Paper, Drawing boards, Clip on lights, Pastels, Copic Markers, Projector, Laptop, Digital Resources
Time requirement:
4 class sessions (3 block periods + 1 short class)
Types of activities:
Co-Op Learning, Independent, Small Group, Hands-On, Performance
---
Introduction:
This lesson plan is a visual arts integration with 10th grade World History and English classes. Through artmaking, people make meaning by investigating and developing awareness of perceptions, knowledge, and experiences. People create and interact with objects, places, and designs that define, shape, enhance, and empower their lives.
In this lesson plan, students create a Mock Trial (attended by the entire school) researching and arguing workers' rights issues in corporate America. This lesson gives students the means to take significant risks by creating art in a highly public environment, expecting multiple viewers and daily critiques. It also provides hands-on career experience in court illustration, providing students with real-world experience in the arts.
---
Instructional Procedures:
(Before starting this lesson, I surveyed students to gauge interest in participating in the Mock Trial as courtroom illustrators using an online poll. Initially, 8/20 students were interested. Based on this number, I planned to conduct a mini-lesson to prepare those students for their role in the trial. The entire class chose to participate in the training, regardless of the survey results)
Day 1 (One block class period before the trial)
Opening questions for class discussion (5-10 minutes)
What is a court illustrator? Do you think court illustrators are working in 2022? Why or why not?
Why might we still need artists in the era of closed-circuit courtroom video?
How does the artist record the human experience of a trial?
What materials are artists using to create courtroom illustrations? How does the choice of materials affect the work?
Teacher-Led Instruction (30 minutes)
Review the resources on the Illustrated Courtroom Blog (linked in Resources) as a class. As we look at the images together, students use Visual Thinking Strategies (linked in resources) to understand the images. Students used their discussion to ultimately answer, "What role does a courtroom illustrator play in documenting the events of the courtroom, and what materials do they need to create their work?"
Ex​plored Creating Masterful Pastel Portraits (linked in resources) and discussed the steps we could use quickly to create a portrait and review gesture, proportion, and form with pastels.
Materials and storage (15 minutes)
The teacher asked students what materials they observed in the illustrations.
Students generate a list and create drawing kits for the trial.
Each kit has a drawing board, 25 sheets of assorted toned paper, and a large zip-lock bag with chalk pastels, pencils, erasers, charcoal, gel pens, and shading markers.
Student Practice and Critique (30 minutes)
Whole class viewing of 2 ten-minute videos of previous student Mock Trials
Students worked in real time to sketch and record the action using all materials in drawing kits.
At the end of each video, students shared their drawings with their table, discussing what materials they used, what they observed, and what challenges they encountered.
Gallery walk of final practice drawings helped students visualize best practices. They discussed strategies to draw faster with more accuracy and how difficult it was to focus on the trial while drawing moving figures. Students are very supportive and encouraging, leading more people to volunteer for the trial.
Student sign-up, team leaders, and materials delivery (20 minutes) (short class)
Students used Remind (a school texting program) to access a Google Sheets File to sign up as illustrator time slots (The 10th-grade team predetermines the trial schedule).
Artists choose teams of 5-6 students and ask that no one signs their drawings to preserve anonymity.
Each session chooses a team leader responsible for collecting the drawings at the end of the session and putting materials away. Team leaders deliver materials before the trial and check storage is safe materials.
Students fill out in-school field trip slips to get permission to miss class to record the trial for their session.
During the trial (2 block classes)
Court illustrators get a reminder text daily with an encouraging message, a thank you for participating, and a reminder about logistics.
Team leaders collect the drawings and return them to class by the end of each session.
Drawings are photographed, sorted into a Google folder by date, and shared with the art students and 10th-grade team at the end of each day using.
Class critiques are held Tuesday and Thursday during the week of the trial, where students identify successful drawings and informally interview those artists about their approaches. Students ask those who didn't illustrate to help curate and arrange drawings by subject, theme, date, or use of materials and begin framing them for display.
After the Trial (1 block class)
Students finalize curating the displays, hanging some in the hallways of the school, distributing a selection of drawings to the 10th-grade team for display in the classroom, and choosing the best work for the ArtRiot art show event.
Students reflect on the experience and share what they learned, what was successful, and what we can improve for next year.
Students hang displays and invite community members to view the work.
Expected Impact

---
Standards
Adv.VA: Cr2.3 (Arts) Demonstrate in works of art or design how visual and material culture defines, shapes, enhances, inhibits, and/or empowers people's lives.
Prof.VA: Cn10 Document the process of developing early-stage ideas to fully elaborated ideas.
Acc.VA: Cn10 Utilize inquiry methods of observation, research, and experimentation to explore unfamiliar subjects through artmaking.
Adv.VA: Pr4 Critique, justify, and present choices in the process of analyzing, selecting, curating, and presenting artwork for a specific exhibit or event.
Student Learning Outcomes (SLO's)
Students will learn courtroom illustrators' materials, techniques, and approaches by creating a series of illustrations during a live trial. Using formal critique, students will identify best practices in courtroom illustration and use those practices to train the illustrators for the next session.
As curators, students will identify, and Artists and other presenters consider various techniques, methods, venues, and criteria when analyzing, selecting, and curating objects, artifacts, and artworks for preservation and presentation.
Adopt & Adapt

---

Additional Notes or Links to Resources:
Mock Trial Court Illustrations Presentation
https://www.canva.com/design/DAFQ5dEvImA/-ZcMQQb_gaJ2biLzcEb_Cw/view?utm_content=DAFQ5dEvImA&utm_campaign=designshare&utm_medium=link&utm_source=homepage_design_menu 
Mock Trial Artist Sign-up Sheet
https://docs.google.com/document/d/18jUbuTjUvwWmgYbiK3FsXsnVPoE8hvsyPtmTtlYZfFI/edit
Mock Trial Illustrations
https://drive.google.com/drive/folders/1-B1M45odf8CfHWvvxVB7rQL5EydnPLqx?usp=sharing
Illustrated Courtroom Blog
http://illustratedcourtroom.blogspot.com/
Visual Thinking Strategies
https://www.educationworld.com/a_lesson/teaching_visual_thinking_strategies.shtml
Creating Masterful Pastel Portraits